Volunteer Income Tax Assistance (VITA) is an IRS sponsored program that provides free, on-campus tax return assistance to eligible individuals and families each Spring semester. UMBC students, alumni, faculty and staff receive free, intensive training about preparing tax returns then volunteer their services to the local community, both inside and outside of UMBC.
If you wish to volunteer with VITA, submit your contact information at https://goo.gl/forms/QS26qZDGqluSP7NB3
Service FAQ
Q: Who Is eligible for Tax Return Assistance?
A: Individuals and families ARE ELIGIBLE for free VITA services if they:
Earn $54,000 or less per year
Are planning on filing as a US Resident
Please note that international students wishing to file a 1040-NR are NOT ELIGIBLE
Q: How do I book an appointment?
A: Appointment bookings begin in January.
Go online to bmorefreetaxes.org or call 410-234-8008 to make an appointment.
Q: What do I have to bring to my appointment?
All relevant tax documents (W2s, 1009Rs, 1098-T, etc)
Photo ID for the taxpayer and spouse, if applicable (both must be at the appointment)
Original social security card for each tax payer and dependent on the return (NO COPIES)
Prior year's tax return
Bank account routing and account number so that refund can be direct deposited
Proof of health insurance, including 1095 form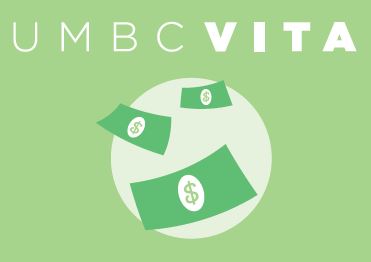 UMBC VITA is also a recognized student organization, holding elections each Spring for President, Vice-President, Treasurer and Secretary. Officers are responsible for coordinating volunteer recruitment, managing logistics for the site, marketing VITA to potential clients, communicating with local nonprofits like Baltimore CASH, and much more. Although not required, officers typically complete at least basic tax certification and often complete advanced site management credentials.  If interested in joining the organization, contact the President at VITA@umbc.edu.
Benefits of Volunteering:
Free IRS Tax Preparer Certification
Practicum class credits from UMBC's Shriver Center
Academic class credits from UMBC's Economics Department
Improved communication, problem solving, tax topics, and logic skills
Volunteer FAQ:
Q: How many hours do volunteers spend training?
A: Basic volunteers complete 15 hours of training in January. Advanced volunteers complete up to 40 hours.
Q: How many hours do volunteers spend in service?
A: Volunteers serve at least 40 hours preparing returns between February and April.
Q: How much of an impact has the VITA program had?
A: During the 2015 tax year the VITA program assisted with 106 tax returns, returning nearly $127,000 in total refunds to our clients. Click here for our 2015 Tax Year Statistics.