Trying to Save for a Car?
Trying to Save for Tuition?
You're in luck! UMBC FinancialSmarts is launching a new program called CASHCoach. This program will teach you the tips you need to know in order to budget properly and to reach your savings goals.
CASHCoach is an online platform that students use with a trained financial coach to develop healthy financial habits and make well-informed decisions.
A coach will work with you to set financial goals and help you create a budget to reach those goals. The online access will provide you with tools to track expenses, update goals and view your budget.
Interested in joining the CASHCoach program? Interested in joining as a coach?
CASHCoach Badge
All students who complete the CASHCoach program will earn a FinancialSmarts Badge from UMBC. The badge can be prominently displayed in myUMBC and social media accounts…such as Facebook and LinkedIn.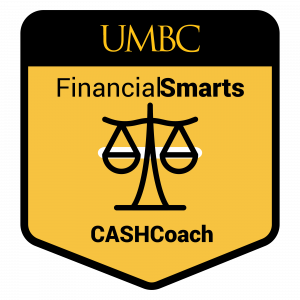 If you have any questions, email mybc@umbc.edu
Take a moment to fill out the following form and we will be in touch soon!