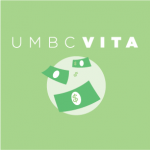 Volunteer Income Tax Assistance (VITA) is an IRS-sponsored program that provides free, on-campus tax return assistance to eligible individuals and families each Spring semester. Currently, to be eligible your household income must be $60,000 or less. The IRS sets household income eligibility, you must be filing a US resident tax return and you must be able to show appropriate identification for all members of your household.
If you are interested in having your taxes prepared for free, click here, for more information.
Sign up if you are interested in volunteering as an IRS certified tax preparation.
VITA @ UMBC began in 2016 and offers free tax return preparation assistance to households meeting IRS income eligibility.  We are able to do so because of the students who volunteer each year to help.  Students go through 15 hours of intensive training and pass an IRS mandated test to prove their proficiency in the material.  The students then volunteer 30 to 120 hours during the spring semester helping clients.   In addition to the students, a small number of UMBC staff volunteer to advise the program and their mentorship of the student volunteers is another reason the program succeeds.

We consider this program one of the best collaborations happening at UMBC.  Students learn new skills and the Baltimore community receives free services.  A win/win for everyone.  We hope you enjoy interacting with our students and appreciate any feedback you wish to share about the service as well as your tax preparation.
UMBC VITA Badge
All students who pass the IRS certification with a score of 80% or more and volunteer at least 25 hours will earn a FinancialSmarts Badge from UMBC. The badge can be prominently displayed in myUMBC and social media accounts…such as Facebook and LinkedIn.