Thank you to everyone who participated in Money Smart Week 2021! To learn more about Money Smart Week click here. Below you may access the recordings of our 2021 sessions. Powerpoints and additional resources for these events are available on our myUMBC page under events.
Click on the image that corresponds to the event to view the recording.
Monday, April 5th 
12 PM
Repaying Student Loans:
What you need to know

So, you have loans, but you don't have a plan? Learn what you need to know to prepare for entering repayment of your student loans, and staying ahead of the game!
2 PM
Counting Your Beans! 
Budgeting for college students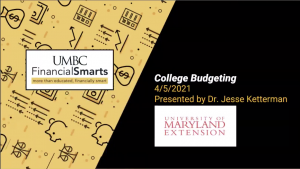 College students face unique challenges when it comes to budgeting. Variations in income and expenses throughout the year make planning difficult. This workshop will share tools that college students can use to develop a budget
4 PM
Credit Card Express: What cards are right for you?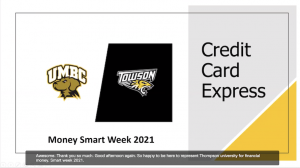 Credit Card Express will provide a small overview of credit scores and how to utilize your personal scenario to select a card that may be right for you.
Tuesday, April 6th 
10 AM
Trivia! CashCart
Want to learn more about your money or do you know about your money already? Log on with OCSS to test your skills! We will be quizzing online and winners will be receiving prizes!
12 PM
Personal Finance 101:
The Path to Financial Independence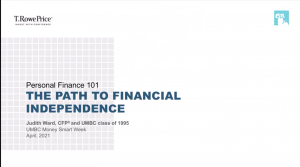 Get financially fit at this virtual financial planning workshop. Join Senior Financial Planner, Judith Ward, from T. Rowe Price to plan a budget, avoid credit blunders, and tips to tackle your financial goals.
1:30 PM
Investing in Yourself through Homeownership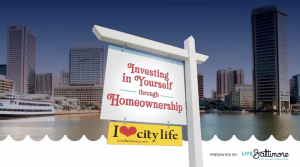 Our workshop will discuss the affordability of homeownership in Baltimore City, highlight vibrant neighborhoods where homes can be purchased on an entry-level salary, and provide an overview of the various down payment programs available to assist recent college graduates in purchasing their own home.
4 PM 
Building Better Money Habits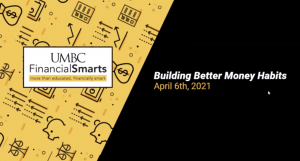 We will talk about simple strategies to take you from knowing what you want to do with your money to make it happen! It can be hard to take what you know and use it in your everyday life. So, we will take a look at strategies you can use to build more positive financial habits into your everyday life.
Wednesday, April 7th 
10 AM
Personal Budget a clear view of my Financial Health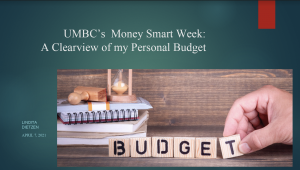 What does Personal Budgeting mean for each of us; What applies to all of us and what is different for each of us; Sources of income; Tracking Monthly expenses and thinking about annual Expenses; Identify times of high expenses and income; How to save or how to stay on track; How to make informed financial decisions.
12 PM
You are in control of your credit!
Participants will be able to understand what credit scores are, how credit scores are used, and how to access and understand their credit reports
2 PM
Savings…Yes, it is possible!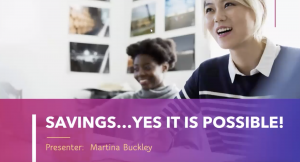 Discussion about living paycheck to paycheck, general savings, and how to start saving.
5 PM
A Taxing Time: The many taxes that you pay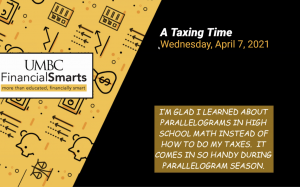 It is Income Tax season! This session will explain the 5 most important things you should know about income and payroll taxes. We'll also help you find a free method to prepare and file your income taxes. Don't forget that your tax return is due April 15!
Thursday, April 8th 
10 AM
Wise Up! Preventing ID Theft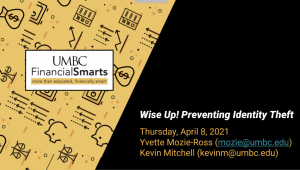 Your identity is your most valuable asset. Scammers are getting savvier in their approach to stealing your personal information. In this workshop, learn how to protect yourself from one of the fastest-growing crimes – identity theft. Participants who stay for at least 15 minutes will be entered in drawing for a prize! Access this event with this link on your phone, tablet or computer!
12 PM
Budgeting as an Off-Campus Student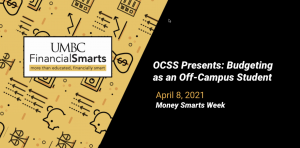 Trying to budget your money while juggling classes, work, and family commitments can be difficult, but Off-Campus Student Services is here to help! In this session, our Commuter Assistants and Transfer Student Network Leaders will provide tips and strategies to help you stay on track with managing your money!
1:30 PM
Are You Financially Literate? How it's Measured and Why it Matters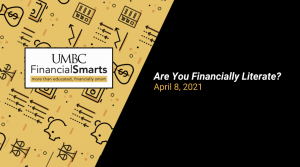 Commonly used financial literacy questions are illustrated. Find out what the research that uses the scores of people on financial literacy quizzes tells us. the scores of people on financial literacy quizzes tell us. Spoiler alert: higher financial literacy generally correlates with better financial decisions and outcomes.
3 PM
Beyond Darts: Picking a health insurance plan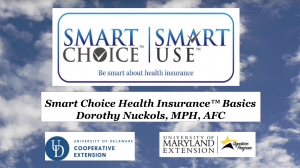 Don't make picking health insurance a game of mystery and chance. Choosing the right health insurance plan makes you a smart consumer. Increase your understanding of health insurance and learn strategies for selecting a health insurance plan that will meet your health care needs and fit your finances.
Friday, April 9th 
10 AM
CASHCoach: Your Personal Savings Trainer!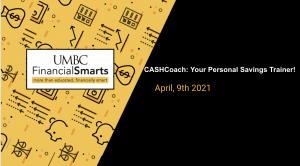 Join the coaches and participants as we celebrate the third year of CASHCoach at UMBC! CASHCoach matches a trained financial coach with an interested student for free financial coaching. Students receive individualized coaching and access to an online suite of tools to develop a plan for reaching financial goals. Come out to learn more about the program and perhaps sign up to join the 2021-2022 cohort! The 2020-2021 cohort of CASHCoach® students will receive recognition for their achievements and coaches will be recognized for their service.
11 AM
Jeopardy! Financial Wellness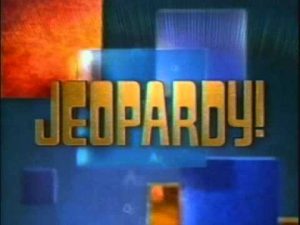 Join us for Financial Wellness Jeopardy! How much do you know about understanding your credit, repaying your student loans, finding scholarships and financial aid at UMBC? Test out your Money Smarts while you learn something new on keeping your finances in great shape. 
Participants who stay for at least 15 minutes will be entered in drawing for a prize! Access this event with this link on your phone, tablet or computer!