Thank you to everyone who participated in Money Smart Week!
Click on the title of an event to view the powerpoint that was discussed during that session. Click on the image to view the recording. 
Monday, April 4th
12 PM
What you need to know
Join the U.S. Securities and Exchange Commission in a guest lecture on how you can invest in yourself.
2 PM
 Savings for college students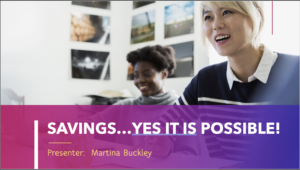 This presentation is to encourage young adults to begin saving and provide a roadmap for success.
3 PM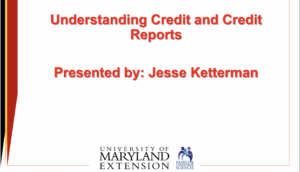 Credit effects how much money we can borrow and at what interest rate. This session will increase your understanding of credit, explain how to get and review your credit report, describe factors that impact your credit worthiness, and increase your confidence to use and manage credit responsibly.
4:30 PM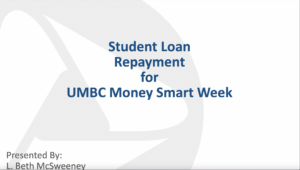 Understanding what you need to do to plan for student loan repayment once you leave school.
Tuesday, April 5th 
11 AM
What you need to know

Know the qualification criteria for public service loan forgiveness, the best practices for receiving the benefits of the program, and new updates for 2022.
1 PM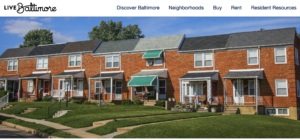 Live Baltimore is a non-profit organization dedicated to increasing the population of Baltimore City! In addition to general homebuying information, this class will focus on the many different incentive programs that Baltimore City offers for First Time Homebuyers and how to qualify for them
3:30 PM


We all have unique experiences, values, habits, and personalities that impact our money decisions. Knowing how we got them and learning our "money profile," can help us create a successful financial plan. Let's talk about money and how to make it work for your own lifestyle.
Wednesday, April 6th 
10 AM
What you need to know

As you embark on your first post-college job opportunity, get insight into the various taxes you will owe and how they impact your net take-home pay for purposes of budgeting and meeting life's goals.  We will also discuss how utilizing certain employee benefits can help reduce your overall tax burden.
11 AM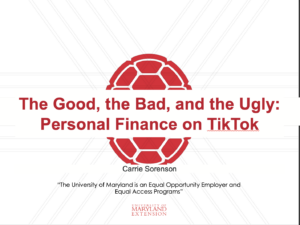 Dealing with money can be challenging and Tik Tok (along with other social media) is full of advice! How do you sort the good information from the bad? What resources are available to help you get the best information, exactly when you need it? Get tips, tricks, and resources to do just that!
1 PM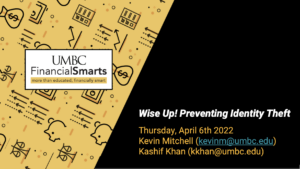 Your identity is your most valuable asset. Scammers are getting savvier in their approach to stealing your personal information. In this workshop, learn how to protect yourself from one of the fastest growing crimes – identity theft.
2 PM

 Learn about preparing for homeownership.
3 PM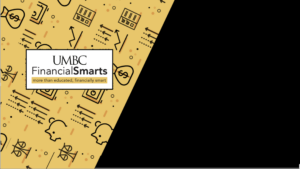 To build good credit, which will impact so much of your financial life, you should first understand what's in your credit report.
Thursday, April 7th 
1:30 PM
CashCoach is a one-on-one budget coaching program where current UMBC students can meet with UMBC alumni to set savings goals and create a spending plan to meet those goals!
5 PM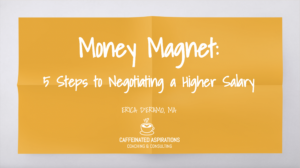 Master the art of analyzing a job offer. Topics include benefits analysis, salary negotiation, and financial management. Explore financial management through a lens of planning to buy your future home in a metropolitan area.
Friday, April 8th 
10 AM
Financial Jeopardy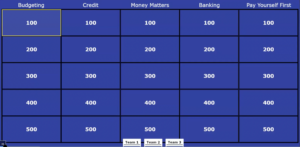 Join the fun and show off your financial know-how, understanding of credit and budgeting knowledge – bring a team and join us for Financial Jeopardy!
11:30 AM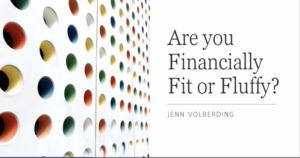 A financial wellness quiz will be presented and participants will be given their score and offered resources.
1 PM
The 50/30/20 Rule is a simpler way to get a handle on your spending and start saving more. It's easy to create & implement, and is one way to help keep your finances on track and help you work towards your goals.