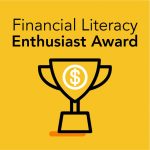 The UMBC Financial Literacy Enthusiast Contest recognizes students or student organizations that exemplify, understand, and promote financial literacy. Student winners will receive a prize in the form of a direct deposit to their UMBC Departmental scholarship. Student organization winners will receive a deposit into their carryover account.
Prizes
1st – $250 Scholarship
2nd – $100 Scholarship
This is an annual competition held during Money Smart Week which is the first week of April. The contest will be announced on our social media platforms in March!
Rules for Entry
To enter the contest you have to share your best financial literacy advice. This can be done in any way that is visible to other people. You could:
 Post on TikTok
 Make a series of Snapchat stories
 Post on Instagram
 Post on myUMBC post
Write a Tweet
Post on Facebook
If you are posting on behalf of a student organization be sure that you post via your student organization's social media page. Once you've shared your advice, send it to financialsmarts@umbc.edu for official consideration. Just send a screenshot of the post, or send us the file if your entry is a video. Also, make sure that you've followed us on Instagram and Twitter!
Submitted content must not contain illicit material, including but not limited to foul language, drug use, and violence. Keep it PG.
Deadline: Entries must be submitted by email before Monday, March 22, 2021 at 11:59 p.m. 
FAQ
How are the winners determined?
A handful of finalists will be hand-selected by a panel of judges. Those entries will then be posted to myUMBC, where the campus community will vote on the best entries during Money Smart Week, the first week of April. The winners will be the entries that make it past the judges and receive the most community votes from students, staff, and faculty. Check out our social media pages to learn when winners will be announced!
Who are the judges?
Members of the UMBC Financial Literacy and Education Committee.
What are the judges looking for?
Entries that are creative, offer practical personal finance tips, and promote financial literacy.
What is financial literacy?
Click around, you're in the right place!