Thank you to everyone who participated in Money Smart Week!
Click on the title of an event to view the content that was discussed during that session.
Monday, April 6th
12 PM
Student Loans: Crisis or Opportunity
Will borrowing student loans ruin your financial future?

Let's explore some facts about the student loan crisis in the United States and how to make effective borrowing decisions so you can reach your educational goals without sentencing yourself to a lifetime of debt.
1 PM
Ca$h Cart
Want to learn more about your money or do you know about your money already? Log on with OCSS to test your skills! We will be quizzing online and winners will be receiving prizes!
2 PM
Jeopardy! Financial Wellness
Join us for Financial Wellness Jeopardy!  How much do you know about understanding your credit, repaying your student loans, finding scholarships and financial aid at UMBC?  Test out your Money Smarts while you learn something new on keeping your finances in great shape.
4:30 PM
Adulting 101: Finances and Your First Job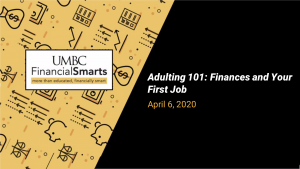 Have you ever inspected your paycheck stub? Do you have questions about what it all means? Join us as we explore Adulting 101 and finances in the workplace!
7 PM

MyBudgetCoach: Your Personal Savings Trainer
Join the coaches and participants as we celebrate the second year of myBudgetCoach® at UMBC! MyBudgetCoach® matches a trained financial coach with an interested student for free financial coaching.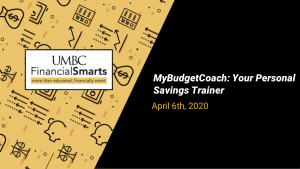 Students receive individualized coaching and access to an online suite of tools to develop a plan for reaching financial goals. Come out to learn more about the program and perhaps sign up to join the 2020-2021 cohort!
Tuesday, April 7th
11 AM
Rich Grad, Poor Grad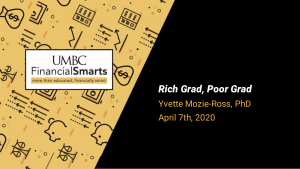 In this interactive
(and entertaining) session, participants will learn and apply personal budgeting skills to a game of savvy financial decision-making.  Objective:  Pay your bills and build your savings!
12 PM
Credit Cafe
To build good credit, which will impact so much of your financial life, you should first understand what's in your credit report. Sign up for a one-on-one session with an Accredited Financial Counselor, AFC® who will review your credit report, provide you with personal recommendations, and answer your questions. Knowledge is power – OWN IT!
3 PM
Savings and Budgeting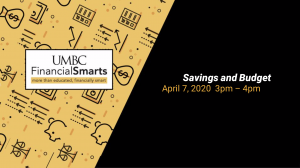 Illustration on how understanding where money is spent and keeping track of spending is great tool that leads to savings and planning.
4 PM
Wise Up! Preventing Identity Theft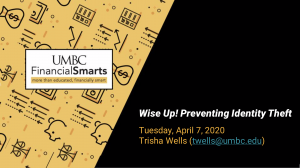 Your identity is your most valuable asset. Scammers are getting savvier in their approach to stealing your personal information. In this workshop, learn how to protect yourself from one of the fastest growing crimes – identity theft.
Wednesday, April 8th
10 AM
Repaying Student Loans: What you need to know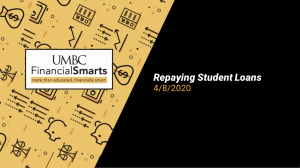 So, you have loans, but you don't have a plan? Learn what you need to know to prepare for entering repayment of your student loans, and staying ahead of the game! 
12 PM
Manage your Moolah!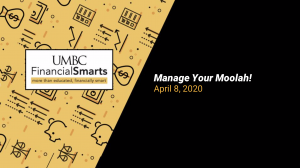 Got moolah on the mind? Don't know how to budget? Learn to manage your money and ask questions about your finances!
1 PM
Life Post Graduation 1 on 1 Loan Repayment Counseling
So, you have loans, but you don't have a plan? We offered 1 on 1 sign-ups for students to have a space to talk about their student loans with a loan counselor! 

3 PM
Starting Salaries: What you need to know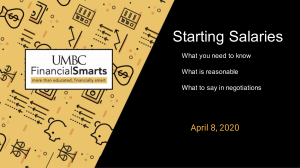 You have a job offer!  What salary should you expect? 
Learn how to look at the total compensation/rewards and determine a typical starting salary for the position. You will determine how to evaluate an offer and decide whether you want to negotiate. Join UMBC Human Resources staff members, 

Kim

  

Harris

 and Sonya Garlington for this discussion.
Thursday, April 9th
1 PM
Home Buying Workshop
Learn about Mortgage basics with the experts from PNC! 
3 PM
How to Outsmart Your Bank: Presented by PNC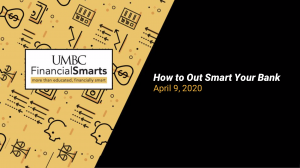 Learn how to get the best value out of your checking account from PNC bank representatives!
Friday, April 10th
12 PM
FINC 150: Earn (Credit) While You Learn

Hear about UMBC's first credit-bearing financial literacy course to be offered Fall 2020.